How to get motivated to diet and work out regularly.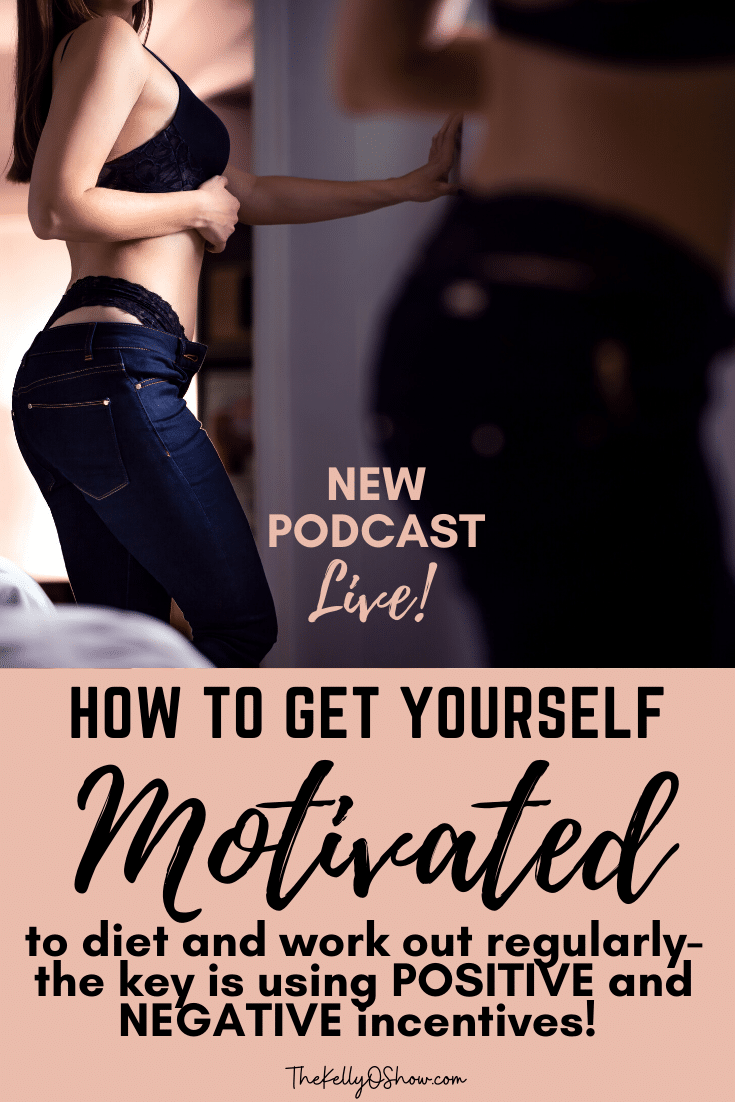 The #1 question I get from my readers and followers is "how do you stay so motivated?" or better yet, "Kelly, how do I get myself motivated? I want to lose weight, I'm just not motivated!!". Everyone wants to lose weight and get fit, but we all know, a large majority START but never finish. They claim- most of the time- that they have a "hard time getting MOTIVATED"– whether it's the motivation to work out or the motivation to eat right, or both!  Listen in to this solo show where I talk about motivation and how you can use both positive incentives AND negative ones to MOTIVATE yourself in a way you've never experienced before. The more you do it, the more it works. Trust me, I'm speaking from experience. If you can proactively keep your mind focused on the right things- the things that DRIVE you to keep on the path and keep doing the work- you will succeed. It's when we lose sight of 1) our goal- where we want to be and how we want to feel and 2) what we want to leave behind– the weight, the not-being-able-to-fit-into-my-clothes situation etc. — when we lose sight about these things that typically elicit a deep emotional response and drive us to do the work- that's when we take things too easy, we ignore the details, we give ourselves a hall pass. Want to finally reach your goal? Tune in to this show and figure out YOUR negative and positive incentives. I can't wait to hear how this works for you!
Some Positive Incentives For You: My Top 10 Rewards For Weight Loss.
Get yourself some new fierce fitness apparel. I talked about my love for Wantable in THIS POST here and right now you can get $25 off your first fitness edit. CLICK HERE to get started and heck why not order yourself a style edit too: you only pay for what you keep!  
Trust me, the more you wear luxury underthings, the more you will want to keep going with your workouts. Get yourself some hot lingerie and some fantastic bras and panties. Stop wearing lame granny panties– you aren't a grandma. CLICK HERE for the bralette and CLICK HERE for the boy shorts below. 
Best Jeans EVER: Paige Premium Denim.
If you haven't leveled up your denim game, trust me when I say this, once you do- you'll never go back. Yes it's a jump to go from spending $50 on Levis (and don't get me wrong they are cool) to $200 on premium denim but– it's a totally different world. You'll feel like you got liposuction or that you are walking around in a Photoshop world. GET YOURSELF SOME PAIGE PREMIUM DENIM jeans. I promise you'll be obsessed!!
Spanx Faux Leather Leggings.
I mistakenly thought I needed to be at my goal weight to wear these. Not true. They are so flattering, I seriously bought them in every available color and pattern. CLICK HERE TO STOCK UP- and order a size UP!! 
Reward yourself in the morning: Nespresso
If you want to start your day off right, you need a Nespresso. Trust me, you'll face the day differently after you level up your coffee experience like this. You'll never go back. 
Dress the Population Dresses.
This brand for women makes the BEST DRESSES ever. OMG!! I literally have at least 9 of these dresses and my man is ordering me several more– they are sooo flattering and sexy and yet — you don't feel like someone trying to look like you are 22 years old. STOCK UP. 
Are you loving The Kelly O Show yet?
Did you enjoy this episode? If so, head on over to our show on itunes (CLICK HERE) and I would so LOVE IT if you'd not only SUBSCRIBE but leave us a review! Reviews help this show get seen and heard by more folks who could benefit from the free information we take the time to produce for you. THANK YOU in advance!! If you have any questions, leave them in the comments below or fill out the Contact Me form. You can also use that Contact Me form to inquire about advertising opportunities on the show or if you'd like to recommend a guest for an interview in the future!
AFFILIATE DISCLAIMER

Note: this blog contains affiliate links that allow you to find the items mentioned in this post and support this channel at no cost to you. While this channel may earn minimal sums when a viewer uses the links provided, the view is in NO WAY obligated to use these links. Thank you for your support.
Listen to this episode now! (41:42)