Looking for the BEST Shapewear for Dresses and Faux Leather Leggings and MORE?
If you are looking for shapewear for dresses for the holiday season – look no further. In this post, I will share my top 7 shapewear for dresses with you and these are pieces I've been relying on for YEARS. Whenever I recommend these shapewear for dresses (or tight tops or jeans) to my friends, they ALWAYS come back and say to me "OMG THANK YOU SO MUCH FOR RECOMMENDING THAT SHAPEWEAR TO ME!! It's life-changing!!"- I'm not joking. I firmly believe the right shapewear for dresses and for tops and for jeans CAN BE transformative. I promise you'll feel the same if you go out and buy some of my recommendations. You'll stand more confidently and everything will be different for you after that. Confidence is a game changer. 
So, let's get started looking at my top 7 recommendations for shapewear for dresses for the holiday season, shall we?
Shapewear: It's not just control top pantyhose anymore
I remember when the only options for us used to be control top pantyhose. And I bought them all!!! Then I actually used to buy CORSETS from Frederick's of Hollywood and I wore them under my suits! I kid you not! NOT very comfortable. Thank God for Sara Blakely and now other companies because there are some wonderful options. Let's talk about it!
My Top 7 FAVORITE Shapewear For Dresses and More. Stock up NOW!
The Ultimate Back Smoothing Bra & Body Shaper by Shapeez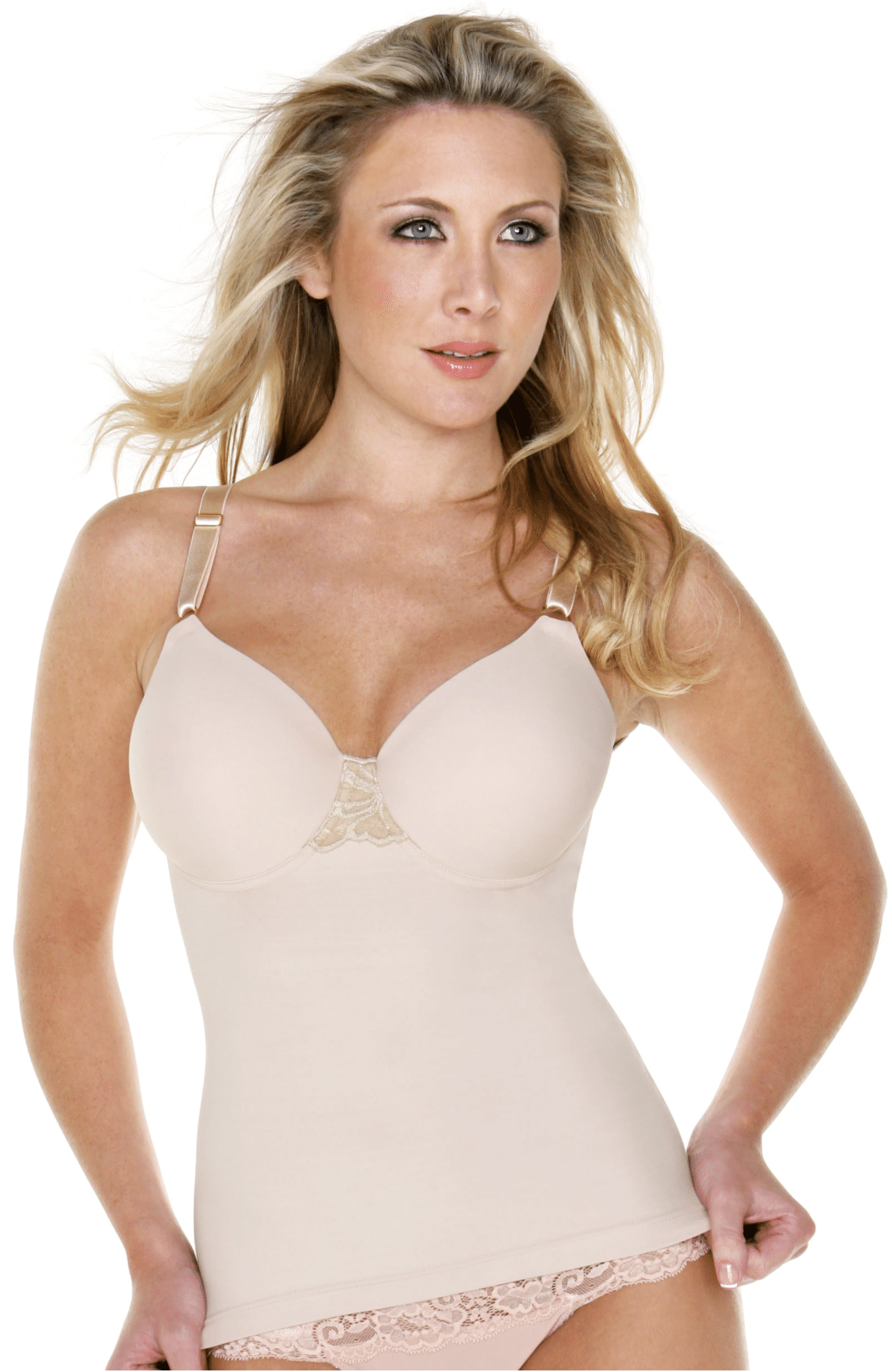 This is actually one of the first body shaping products I bought and I think I heard about it via the Oprah show way back. Let me tell you something. This is by far one of the best things you'll ever buy. If you get annoyed when you wear a tight top and you see the bra lines in back- even the slimmest of us have them, YOU GET THESE and don't have to wear a bra because they are the bra (and ladies I'm a 36D, trust me they perform just fine as a bra!!) and the lycra tank smooths you out and holds you tight around the middle so you FEEL tight and– NO LINES — GAME CHANGER!!!!! You'll wear more form fitting tops than ever with confidence trust me. I have these in the shorter version and the longer version and in black and in nude. The other great thing about them: when you get the longer version they are fantastic to wear with mid-rise jeans. You sit down and they can cover up that plumber butt situation. BONUS. This model above is wearing The Ultimate: CLICK HERE TO BUY.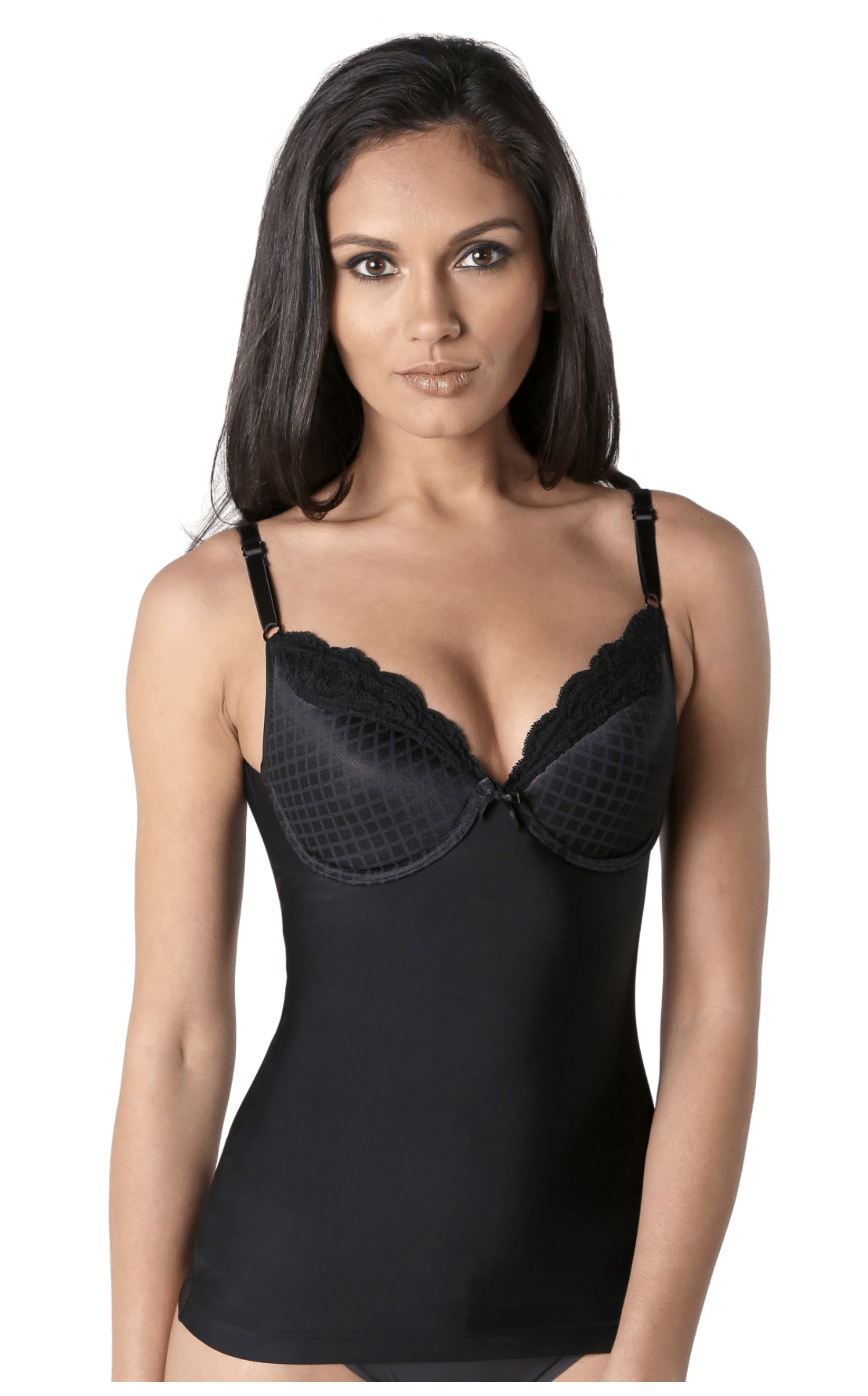 This is the Demi Long version, I have this one too and highly recommend it. Again, I recommend all the tank top versions but if you shop around their site, I can't imagine anything they sell being not fantastic. And if you care for the product right they last forever, — meaning HANDWASH ONLY and hang to dry. 😉 CLICK HERE TO BUY this model. 
Maidenform Shapewear Wear Your Own Bra Firm-Control Body Shaper 2556
This has been one of my top go-to shapewear pieces for the past 5 years and I have bought it in nude and black again and again. It's a best-seller at Kohl's and I can see why. CLICK HERE TO BUY. This is an ideal piece of shapewear for dresses, I'm sure you'd agree.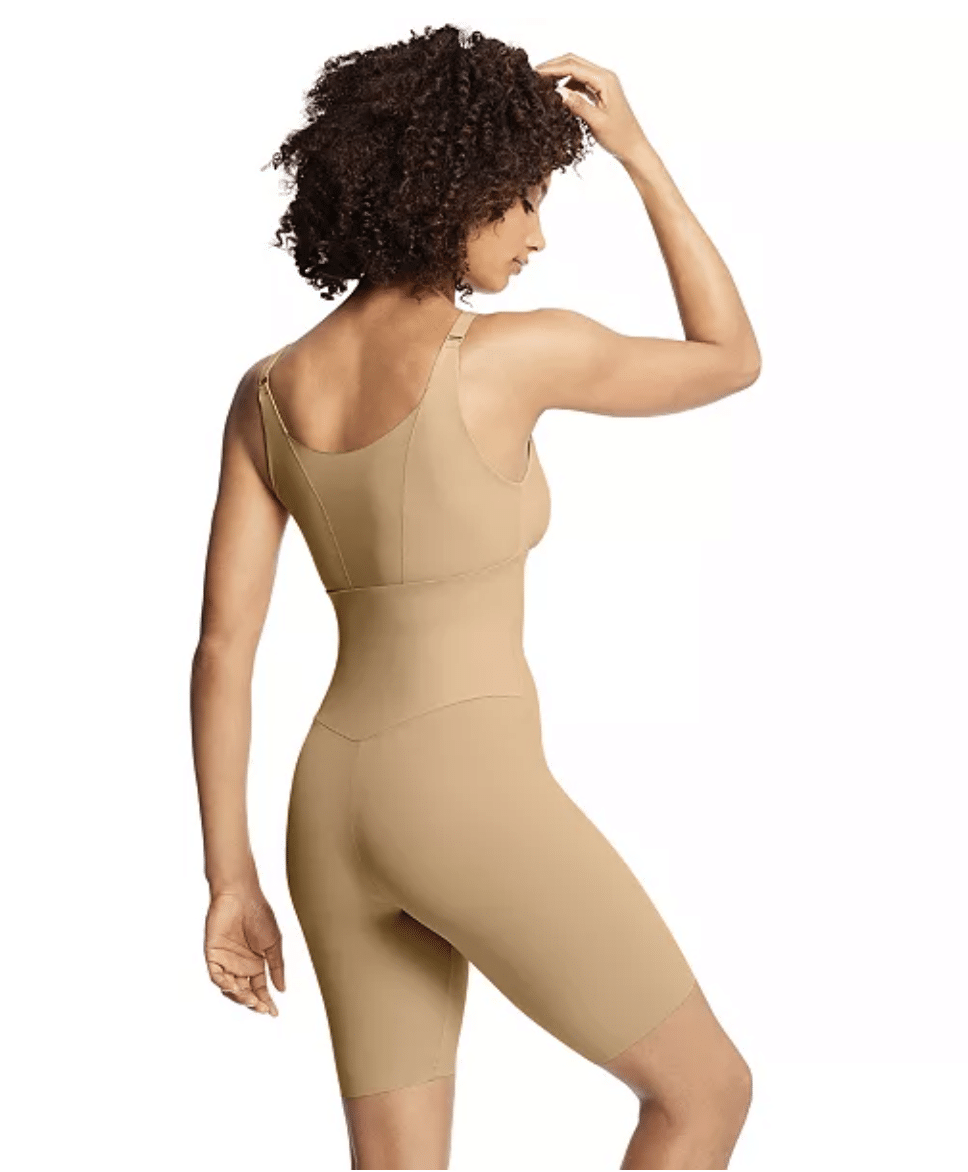 As you can see this is a pants/shorts kind of bodysuit. And you can wear your own bra. This can be worn under jeans and a top, which I was doing for quite a while when my hormones were jacked and I gained all this weight around my middle– I had the odd situation where all my pants fit me everywhere but my waist and I was especially paranoid and uncomfortable with mid-rise jeans when I would sit down. One, because they'd ride down so low and I'd worry about my butt showing but I'd also feel that my waist would just be jellyfishing over my jeans waistband. Wearing these at least made me FEEL more tight– when I was feeling uncomfortable in my body. Fast forward to today where I've lost so much weight, I still use these but more for smoothing out lines under tight dresses and also I notice sometimes under faux leather leggings– some of them, you need to wear something like this or — I can't describe it, around the crotch area it just looks WRONG. It looks like people can see your junk, you know what I'm saying? I feel that wearing shapewear underneath you keep your stuff private 😉 This is GREAT to wear under any dress, it's great when you are losing weight and even after you've lost weight- I swear by them. Also— back to what I said above — another solution to low-rise jeans. No more worries about bending down and flashing your butt crack to everyone. 😉
Spanx Suit Your Fancy Plunge Low Back Mid Thigh Bodysuit
I have to give Spanx credit- this is one of the most brilliant creations on the planet for reals. If you have a dress with crazy skinny straps and a low neckline or low backline but you have (real) boobs and need and want to feel tucked in and lifted up– this is your dream. NOTE: when you buy this and put it on, do not judge it until you put your dress on over it. You'll think it's not going to support the girls. You'll be wrong This is all you need. It's PERFECT. I mean. So perfect. I want to marry it. You must buy it. In both colors. You're welcome. So brilliant. CLICK HERE TO BUY. 
SPANX Suit Your Fancy Strapless
If you like the above and below options, you're gonna end up buying a strapless option like this. That's finally what I said to myself. Why not? ONCE YOU REALLY REALIZE HOW DIFFERENT LIFE IS WITH GOOD SHAPEWEAR, YOU INVEST IN THE GOOD STUFF.CLICK HERE TO BUY.
Spanx OnCore High Waisted Mid Thigh Short
NEVER would I have thought that a pair of shapewear like this would fit and stay put and be comfortable– but this does the job. Last night I wore this under a dress with a strapless bra and felt totally tucked in and comfortable and slim and AWESOME. You could wear these under a suit under jeans under anything really. CLICK HERE  to buy.  Sometimes I have dresses where I don't need to wear a bra (believe it or not) and yet I want shapewear o the bottom, this fits!
While you're here, you may want to check out some of these latest posts and videos: Sexy Holiday Fashion For 40+ Females: CLICK HERE. Hypothyroidism and Losing Weight: How I lost 22 Pounds After Being STUCK for 10 Years! CLICK HERE. My Daily Makeup Routine: Tutorial CLICK HERE. Why Healthy Fats Can Be a Problem When You're Trying to Lose Weight CLICK HERE.
AFFILIATE DISCLAIMER

Note: this blog contains affiliate links that allow you to find the items mentioned in this post and support this channel at no cost to you. While this channel may earn minimal sums when a viewer uses the links provided, the view is in NO WAY obligated to use these links. Thank you for your support.