Beef, it's what for dinner. Especially when you're on the Paleo diet approach, or trying to stick close to it. These beef and veggie bowls are insanely easy to throw together and taste like heaven. So grab a bunch of veggies, a pound of grass fed beef and throw it all in a bowl!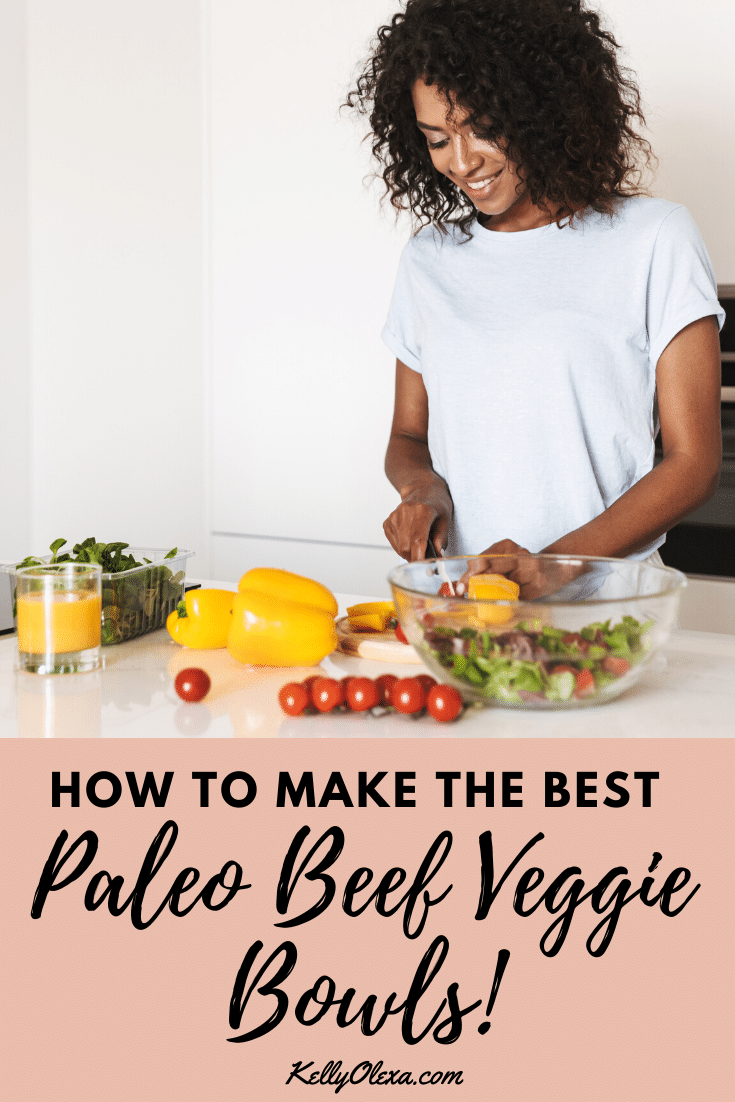 Y'all should get excited because this blog post is going to share a recipe and then tweaks on that recipe that will create healthy, satisfying, yummy meals that are easy to make– and filling- and will keep you on point on your diet. This was originally posted by Lauren on FitFluential, so I am updating this post here, since she was writing about my recipe idea anyway- and adding some extras for you…..so whether or not you are full-on Paleo- I promise, you'll love this "throw it all in a bowl" meal concept. Read on– via Lauren Fischer.
This is one of those recipes that I never thought would become a blog post. Instead, I threw it together one night when I didn't have a plan. When I used random ingredients that didn't go with anything else. When I really wasn't sure if it was going to taste great or 'meh.' And I for sure didn't think it would make a pretty picture.
Sometimes life surprises you.
This dish definitely surprised me.
Inspired by FitFluential CEO, Kelly Olexa, during a recent visit to Austin, this dish has now become a weekly staple in my household. It all started one night when we were discussing going out for dinner or staying in. After days of back-to-back dining out (which included some not-so-healthy choices) I was in need of some fresh veggies prepared at home. So Kelly gathered a bunch of different ingredients and started chopping. I was in charge of the jalapeno – super important job.
While the quinoa, chopped zucchini and chicken were cooking on the stove, we began prepping the bowls. The romaine lettuce went in first. This almost makes it feel like you're eating a salad, but much, much more filling!
Next, we added the quinoa, chicken and zucchini. As I watched the steam rise up from the plate, I was ready to dive right in. But the final toppings made it worth the wait. Kelly sprinkled diced red pepper and jalapeno on top, and topped it with a generous dollop of roasted red pepper humus and cilantro. #genius
From the first bite I was hooked. I couldn't wait to get back to Chicago and make this for my husband, and quite possibly eat it everyday for the rest of my life. But when I forgot to add everything to my grocery list, I was left with the option of whipping up my own delicious version.
The main difference? Grass fed ground beef instead of chicken. I also added Brussels sprouts. Unfortunately, I was out of quinoa so I skipped that part completely. #lowcarblife
Enough chit-chat. Get the recipe plan below! Note from Kelly (that's me): I didn't include in the recipe below the quinoa because I usually tend to NOT add that like I used to. Doesn't mean you can't. But- for example, if I'm adding sweet potato, I use that as the carb. You could do quinoa or rice or cauliflower rice. Also- please, whatever your definition of paleo is, cool. I get that for some, legumes i.e. Hummus is not considered paleo but — I don't need to talk to the paleo police. Let's just eat and be happy.
One other fun twist on this- mix up ground beef or ground turkey in your pan and then add a measured portion of EXTRA SHARP CHEDDAR and Rotel– mix it all in. Add on top of lettuce. Top with whatever toppings you want. Divine.
If you measure your protein and hummus and veggies- you can make a HUGE bowl like this and have it be around 500-600 calories easy. And it's sooooo filling!!