Where to buy the most fierce fitness apparel online.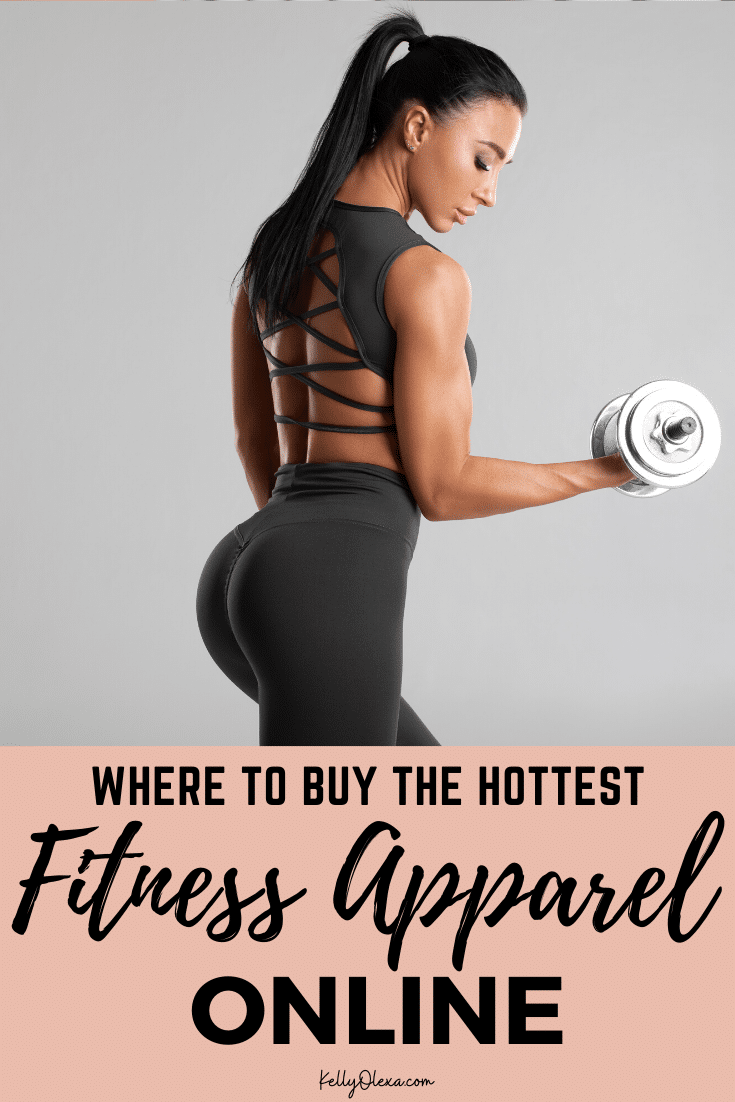 If you work out a lot- like most of us– you spend a lot of time in fitness gear. In fact, now more than ever, we spend time OUTSIDE OF THE GYM in our workout-wear- so much so that they coined a term for it- "athleisure" apparel. Remember when we wore jeans and khakis in our down time– now it's workout wear. Fitness apparel is a whole different ball game in so many ways. 
First of all- it used to be, maybe 10 years ago- that if you wanted fitness apparel, you were pretty much stuck with some generic brands of tee-shirts and shorts and maybe SWEATPANTS at like a Wal-Mart or TJ MAXX, or you could really level up and order something from Nike or Reebok or Puma. Still- the stuff back then that they made for WOMEN was not anything you would get your strut on in. It was baggy, ill-fitting and usually came in 5 primary colors. 
I specifically remember the days back when I first started getting into fitness- back when Taebo first came out and soon after was when I started doing The FIRM workouts. Let me share a few video clips from those days to show what was going on with fitness fashion- and this was in professionally produced videos– this gear even though we thought it was cool looking, wasn't the stuff you'd see in stores, trust me. 
Do you see how no one in the above videos was really wearing workout gear- it was like ripped up tee shirts and shorts. That's it. Eww. 
Legwarmers. Nude hose. High cut lycra. Lord. But I gotta tell you- these workouts were ahead of their time in that they used weights for women- way before it was mainstream. 
Cher Fitness. Yes. It was a thing.
Seriously- Cher is wearing black pantyhose in this video. And notice the big squishy socks = that was in big time back then but truthfully- that was it- everyone wore just all black. And I never saw anything like this workout gear in stores or online. I remember reading Muscle & Fitness back then and they'd have a random ad for some fitness gear and then you'd have to search high and wide and HOPE they had a website to order from. Life was tough back then but fast forward to today— we have hope. Fashion has taken over workout- wear. The first time I invested in high quality workout apparel– my world changed. Seriously. It's just like upgrading to a top quality suit for work. The more expensive brands will fit you differently- better- and will LAST A LONG TIME. Same with fitness apparel. 
INVEST IN YOUR FITNESS GEAR- and take care of it– and trust me– you'll feel better and more confident during your training- and you'll be motivated to keep going- so you look better and better and then you can buy more! 😉 See how that works??
So– yes, I love me some Lululemon but you know what I don't like? I don't like that their colors are always "muted". It's like you never see BRIGHT COLORS. So when I first ordered from WANTABLE I was in love. Why? They send you a box of selected fitness gear based on your preferences – and as you'll see in the video below- I got stuff I've never heard of! I discovered styles and brands I didn't know existed and honestly– I'm obsessed. Check out my video haul below and (please note I actually recorded this initial video over a year ago but considering I'm back with WANTABLE and ordering more again — as well as getting some out-of-the-gym fashion (they do an excellent job with that too- I started buying expensive jeans because of them!! Oh my credit card!!)
My WANTABLE Unboxing: Check it out.
How YOU Can Get Started Expanding Your Fitness Wardrobe With Wantable!
Ladies — you will be obsessed when you start down the WANTABLE road. And now you can get $25 OFF your first fitness edit— CLICK HERE to get started. And I want you to tag me on social media so I can see what you got!
Seriously how cute is this?? And here's another sample below. Check it. 
Get yourself some new shoes to go with it!
What do you think? Are you ready to level up your fitness wardrobe and stop wearing baggy tee shirts and sweats? You deserve to look as fierce as your body is getting. GO FOR IT AND sign up for a WANTABLE FITNESS EDIT NOW. I bet you'll be tagging me telling me how obsessed you are! 
AFFILIATE DISCLAIMER

Note: this blog contains affiliate links that allow you to find the items mentioned in this post and support this channel at no cost to you. While this channel may earn minimal sums when a viewer uses the links provided, the view is in NO WAY obligated to use these links. Thank you for your support.