The Best Anti-Aging Probiotic Skincare.
UPDATE: THIS GIVEAWAY EXTENDED FOR ONE DAY- I WILL CHOOSE WINNERS ON SATURDAY AUGUST 24TH AND ANNOUNCE HERE AND ON INSTAGRAM. If you are at that point in life where you KNOW you need to start taking care of your skin– because you want your skin to match how you feel about your body, right? You work out a lot, eat right, and focus on getting fit…but you might feel that your face (and neck and chest area for that matter) don't really reflect how young and vibrant and healthy you feel.
Is this you? Are you looking for an anti-aging skincare solution that actually delivers results? 
If you've been following me for a while you know I have been RAVING about GLOWBIOTICS for quite some time. I first found out about them when I went to get Botox for the first time. I wrote a whole post about my mad love for them here. 
This stuff is the BOMB. Medical grade probiotic based skincare that feels like heaven when you put it on and – ladies, I am 50 years old– I feel so awesome about my skin, I can't put enough words here on my blog post to describe it enough. 
I am CONSTANTLY asked about my skincare and constantly told that my skin "glows". Now- I will always be very transparent– I mentioned Botox above- so yes, I get "work done". But- Botox and fillers don't address your SKIN TEXTURE and they don't create a glow. Those procedures are more about gravity and the architecture UNDERNEATH the skin. GLOWBIOTICS is going to address your skin and how it looks and feels. And I promise you, you start using these products, you will experience the glow. You will become obsessed. You will never go back to any other skincare. This stuff is AMAZING– and today– is your lucky day because – per the title of this post, it's GIVEAWAY time!! 
Let's level up your skincare game.
I'm going to be bold and shallow. This photo was taken 2 weeks ago. Did I adjust the photo in Lightroom- yes. What I did was adjust the texture component– because when we took these photos we went inside and outside and it was 104 degrees and when the pics came back it was clear I had some shiny face/sweat stuff going on. I"m sharing this with you to say, I only did a slight bit of touching up on this photo. Frankly I hate the idea of photoshopping myself to look 10 years younger or 20lbs lighter online so when people meet me in person they are like WTH?? Nope. I feel damn great about how I look at age 50 and I attribute a lot of that to Glowbiotics and to my injector at The Jules Co. 😉 Now, let's get on with the giveaway.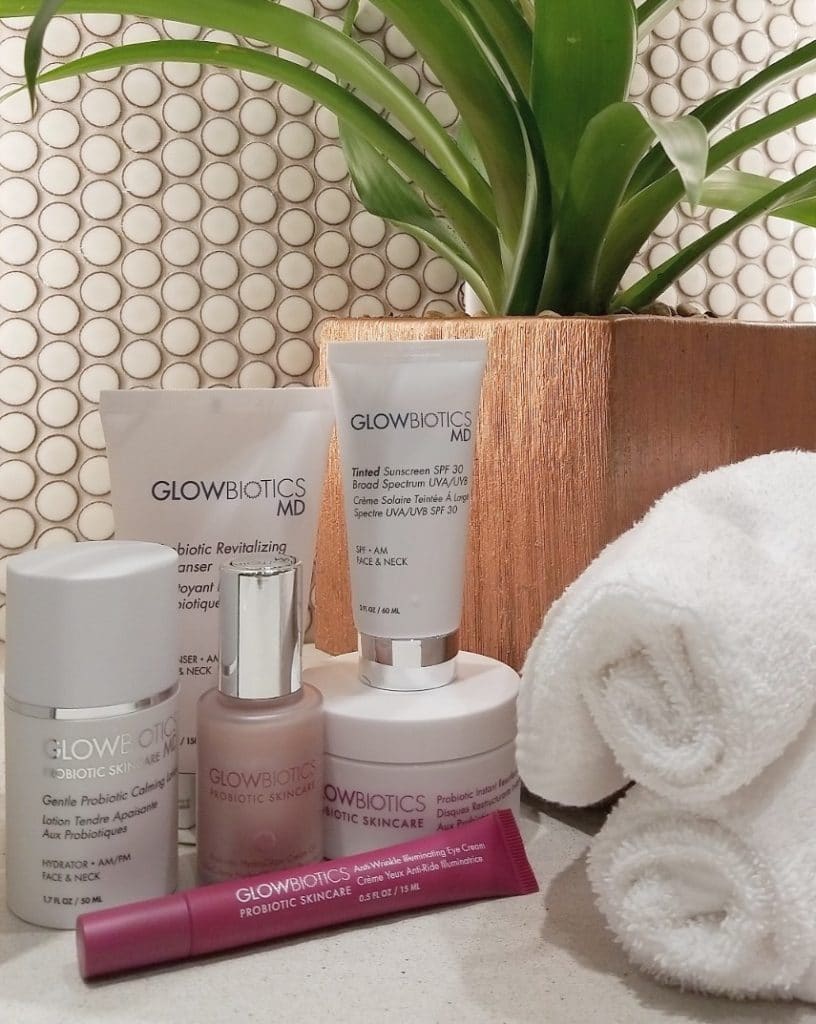 What's in this fabulous GLOWBIOTICS skincare prize package? I'm glad you asked:
Full size products included in giveaway:
(1) Probiotic Revitalizing Cleanser: This revitalizing, sulfate-free and anti-aging cleanser helps:– effectively remove surface impurities including dirt, makeup and excess oil– soothe the appearance of redness while leaving skin feeling soft and smooth– add radiance and vitality back to dull, aging skin– firm, brighten and hydrate dry, maturing skin
1) Probiotic Instant Resurfacing Pads: These clinical strength probiotic resurfacing pads are formulated with a proprietary Balancing Complex and the richest form of vitamin C to help:
– instantly reveal radiant, youthful- looking skin with fewer fine lines, wrinkles, pores and blemishes
– gently exfoliate dead surface cells to soften fine lines and wrinkles
– decrease unwanted pigmentation and age spots
– increase cellular lipids for added moisture using 5% lactic acid while tightening and illuminating the skin
1) Anti Wrinkle Illuminating Eye Cream:This illuminating, probiotic eye cream instantly brightens, tightens and transforms the look of tired, puffy eyes while:
– increasing volume and elasticity with a unique blend of peptides and lipids found in the Fill and Firm Complex
– brightening and illuminating the skin around the eye area with minerals from the Reflecting Mineral Complex
– hydrating and restoring the eye area with topical probiotics
– Haloxyl reinforces firmness, tones eye area and targets dark circles
1) Probiotic HydraGlow Cream Oil: This probiotic and antioxidant rich emulsion is designed to help:
– strengthen, hydrate and rebuild the skin with a unique Balancing Complex
– impart an illuminating healthy glow with the blend of light reflecting minerals
– visibly reduce fine lines and wrinkles, brighten and improve overall skin tone with Kakadu Plum
– activate and boost the natural immune functions with peptides while reducing inflammation
1) Gentle Probiotic Calming Lotion: This gentle and lightweight nourishing probiotic lotion helps: soothe, soften and hydrate dry, rough, weathered and irritated skin– strengthen the natural skin barrier function by increasing synthesis of ceramide- improve texture and hydration– calm and soothe inflamed, red skin while imparting a visibly brighter, more even complexion– provide a youthful glow and soften the appearance of fine lines and wrinkles(1) Anti-Wrinkle Illuminating Eye Cream
(1) Tinted Sunscreen SPF 30:High-performance, silicone-based, non- irritating tinted mineral sunscreen with UVA/UVB SPF 30 for face and neck.
– anhydrous (water-free + oil-free) formula protects with broad spectrum SPF 30
– serves as a smoothing tinted make-up primer
– enhanced with vitamins and antioxidants
– non-greasy, silky texture
– small amount is all that's needed when applying
Total Value = $314!
Want to win? Here are the rules:
Only entries living in the U.S. are eligible.
Winners will be chosen at random from the total of comments here and on our instagram page. 
No limit on entries. 
Each comment is an entry. Each tagged friend is an entry. 
Go to https://www.instagram.com/kellyolexa/ — follow me and leave a comment on the GLOWBIOTICS giveaway post. 
Follow GLOWBIOTICS on instagram here:  https://www.instagram.com/glowbiotics/ 
Subscribe to my newsletter (in the sidebar) so you can be in the know when I announce the winner AND when I do the next GLOWBIOTICS giveaway. 
Let me know what questions or concerns you have with YOUR skin currently– in the comments below. 
GOOD LUCK. Winner will be drawn at random on August 22nd, 2019.